Payment Processing Companies
Payment processing companies sell processing services. They may consist of a core processor. But more often than not payment processing companies are reselling the processing services of a core processor. These processing companies may come in the form of an Independent Sales Organization (ISO), Sales Agents, or POS providers. The fees charged through these companies typically are not transparent. You never know what you are really paying the processing company. In addition, most will initially beat your current processing rate just to increase it over time. These companies each get percentage per transaction. Therefore, the more the merchant pays in credit card processing fees, the more the processing companies make.
Our Payments Advisory Firm
The Difference – Our payments advisory firm, Merchant's PACT (Payment Acceptance Consulting Team), provides two unique advisory programs to banks and credit unions to improve business client satisfaction and retention. These unique programs leverage extensive industry expertise to provide analysis-driven advice related to merchant acquiring programs. In addition to helping financial institutions with their business clients, we work directly with businesses of all sizes.
MPACT Payment Advisory and Managed Services is hired to be an extension of a company. Similar to a CPA, businesses hire our advisory firm to work for them to negotiate the best processing fees and terms and conditions with their current processor or a new one. In addition, we are hired to conduct quarterly audits to ensure pricing stays consistent. A transparent annual fee is paid to our firm to work for the business. Our interests are 100% aligned with the business owner as we do not get paid by the processor nor do we get a percentage per transaction. Click to learn more about our services or read our case studies.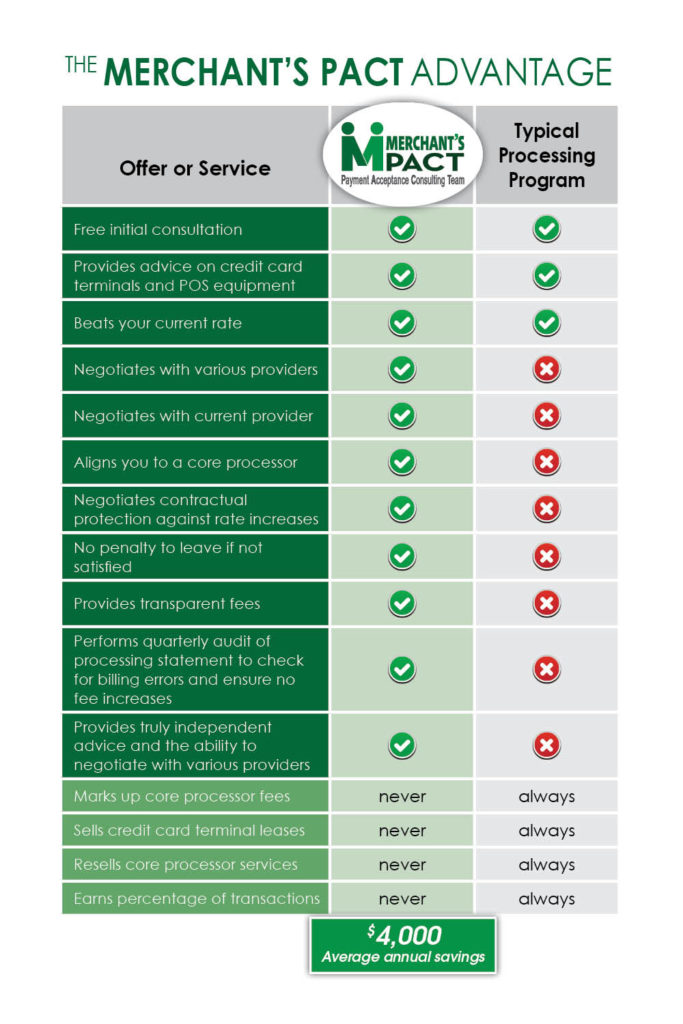 MPACT Acquiring Program Reviews and Advisory Services are designed for larger financial institutions that have significant traditional merchant acquiring programs.
Both of these programs are designed for Merchant's PACT experts to discuss, evaluate, and understand the goals and needs of the business or financial institution. With this knowledge, Merchant's PACT helps business and financial institutions achieve their goals by providing expertise to improve current merchant services program.