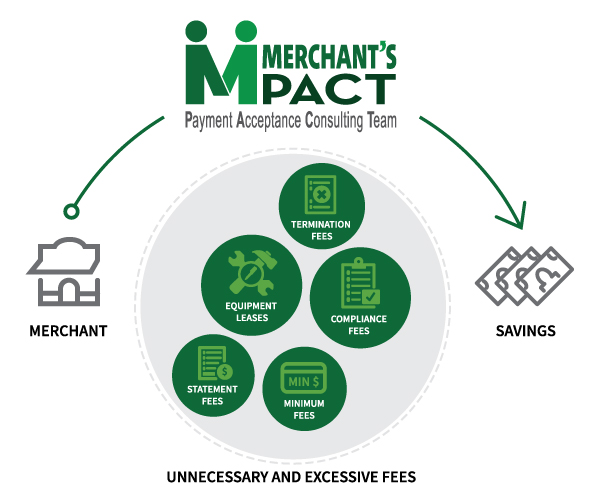 "I refer Merchant's PACT to my business clients because I use Merchant's PACT to manage my merchant processing relationship. Merchant's PACT is an ethical company that will help my clients get the best merchant processing deal in the industry. There are no longer complaints or questions about the merchant processing costs, because Merchant's PACT explains these fees and rates with them and stays in communication with them about recovered billing errors. I am able to focus and find savings on other aspects of my business and my business clients' companies with the confidence that Merchant's PACT is auditing and negotiating the best merchant processing deal."
Bill Bennett
President
Bennett & Company CPAs
Merchant's PACT provides:
Industry Expertise
We are not a processing company. We are hired and work for the client not the processors
Avoid common industry practices and sales tactics
Knowledge and ability to dissect processing company contracts and statements
Industry connections allow us to find the best rates and deals
POS advice specific to company needs
Service Quality
Manage merchant services for client
Not limited to a specific processor platform
Ongoing competitive bid reviews
Service Escalation Point
Service Guarantee
Do not bill until savings is verified
Quarterly Audits
Assure the rate is not increased
We analyze both controllable and non-controllable costs
Check for billing errors
Negotiate and manage potential refunds
Preferred Negotiations
Do not have to switch providers
Savings  and Merchant's PACT fee disclosed upfront
We are not paid percentage of transaction or by processing company
If the merchant already has a good deal we validate that for them-at no charge
Custom contract

Shorter term
No rate increases
No terminal leases
A great way to test our services is to allow our company to review your business' processing fees!
If you want us to review your fees or if you have a business to refer, please fill out the form below or go to our refer a business page and include in the message that you are a CPA.
CPA's receive $50 per referred business that becomes a Merchant's PACT client.